Electrical tendering and project management
Industry Expertise – Our team are all passionate about our industry, and offer a wealth of experience and knowledge. We will win you electrical tenders and help you with your project management
Back Up – When you use Becompany you not only get a electrical tendering service but a valuable back up service at no extra cost. This not only extends to background information about your project and prices, but can help with your business too.
Value for Money Service – At Becompany we provide you with a quote first. We work on an hourly rate, usually absorbing any time wasted by chasing suppliers or information – which means you are just paying for our actual work on your electrical tenders or project management needs.
Our Full Commitment – Our aim is to win the electrical tender for you. This means we will always go the extra mile with background research too. There can be many commercial reasons why the order will not come your way. But to ensure we do our best for you, we simply don't charge you if our tender is not in the top three.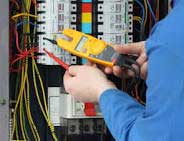 Do you need advice on electrical estimating or do you need help with project management? Call Tony on 07919 876 561 or email

tony@becompany.co.uk